VENTE à EMPORTER
Commande du mardi au dimanche de 9h30 à 11h30
Retrait jusqu'à 14h30
Sandrine 06.20.51.48.30.
Claudio 06.85.82.78.13.
Entrées
Mi-cuit de foie gras de canard
au Porto, compotée d'oignons rouges aigres-doux, pain d'épices
8€
Croissant au saumon fumé
avocat, burrata et roquette
6€
Tomate farcie
au fromage de chèvre frais parfumé aux herbes
6€
Viandes cuites au feu de bois
garnitures du moment
Au minimum 2 personnes pour la même viande
Poulet entier
1 kg 600
20€
Carré de veau
par personne
14€
Selle d'agneau
par personne
14€
Côte de bœuf
pour 2 personnes
30€
Poisson
Filet de daurade cuit au four
farci de pommes de terre, légumes du moment
12€
Dessert
Entremets aux fraises
4€
Royal chocolat
4€
Pain de Gênes
et sa crème tiramisu citron limincello
4€
Our cooking is elaborated with fresh and seasonal products, with a speciality of fire-cooked meats in the immense fireplace.
During the summer season, our restaurant moves on our terrace, Place du Frêne, providing an unimpeded outlook over the Baous surrounding the city.
We respect food intolerance and can inform you about the making of our dishes.
We can also, on request, adapt our menu for vegetarian and vegan people.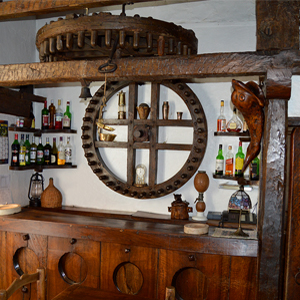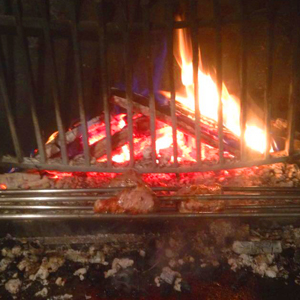 "Allègre Allègre
Qué Diou t'allègre
Ti fagué la graci
Dé veire l'an qué vén
Et qué si sian pas maï
qué séguien pas men."
– Lou Seignour
"… e si n'on manco un qué siegué pas ieu."
Private parties
Bring your family or friends together for an intimate dinner!
Group meals
Our spacious rooms welcome you in a personal or professional setting!